Why Black Ice Is Dangerous And What You Can Do About It?
Walking on clear ice or black ice is risky. Black ice or clear ice is a thin layer of ice caused by refreezing of melted snow. It is transparent and appears clear to the eye, and hence we cannot differentiate between a regular road or the one that has a black ice layer on it. It makes it difficult for pedestrians to walk, and there is a chance they might slip and injure themselves. Moreover, it is difficult to get rid of black ice with salt and ice melt. 
Let's discuss some tips for walking on ice and how to prevent yourself from tripping on black ice.
Get ready for winter with Walk On Ice instant traction on snow and ice
Let Us Take A Quick Look At Different Ways To Help You Walk Safely During Winters 
Winter Shoes
One of the best tips for walking on black ice is to invest in some good-quality winter shoes that have a broad sole, deep grooves, and a heavy base to ensure you do not slip while walking. Wearing non-slip shoes such as wellingtons, insulated boots, combat boots, timberland boots, etc., are a few types of boots you can wear to walk on black ice.
Traction Agents
Using the right traction agents can help you walk safely on slippery surfaces. Gone are when people used only sawdust or sand or kitty litter to create traction; today, you have more effective traction products available in the market, and one of the best ones is Walk On Ice.
The Walk On Ice traction formula comprises seven naturally occurring geo-crystals dried and milled. The primary granules are absorbers and grippers. The absorbers siphon the excess water, and the grippers bite into ice/snow to create a non-slippery sandpaper-like surface. The best thing about Walk On Ice is that it does not take time to act on the surface and creates instant traction. It is easy to carry and equally simple to clear off. You can safely use it liberally over any surface such as brick, wood, concrete, asphalt, pavers, etc.
Get ready for winter with Walk On Ice instant traction on snow and ice
Shoe Cleats And Spikes
There are several options to choose from when it comes to spikes for walking on ice. With various traction cleats, you can select a wide range of metallic or rubber crampons, diamond-grip traction, spiky ice-grippers, micro spikes, etc. The beauty of these grippers is that they can be easily worn over regular shoes and last for a long time. In addition, spikes make it easy to form a grip on an icy surface, thus making it easier to walk on ice.
Conclusion
To confidently walk on black ice without the fear of slipping and injuring yourself, use traction agents, such as Walk On Ice. It helps you get an immediate hold over any slippery surface without causing any harm to your machinery, roads, pets, plants, kids, and concrete.
Other Ice Melt Products
Safe Paw
The Original and the #1 Pet and Child Safe Ice Melt for over 20 years. Guaranteed environmentally safe – will not harm waterways and sensitive wetlands. Safe Paw can change how winter affects our planet.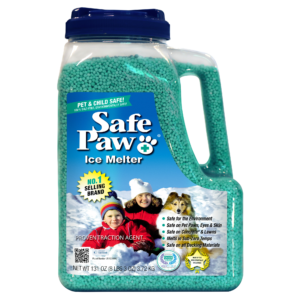 Safe Thaw
Imagine an ice melt you can put down and never worry about. It won't harm pets, kids and your property. That's Safe Thaw. Unlike anything else on the market, Safe Thaw can change how winter affects our planet.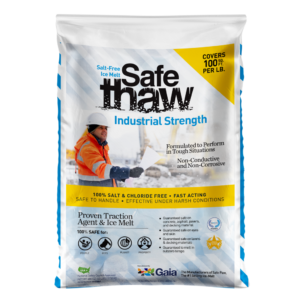 ---