Traction On Ice – Natural Way
Keeping ourselves homebound during the snow season is not an alternative hence, we need to prepare in advance to face the challenges of winter. Walking on snow and ice is not as easy as walking in a park. You may be aware of handy tips for walking on ice but nothing prepares you for slippery icy surfaces except natural traction agents.
Here Are Some Natural Traction Agents To Choose From.
Kitty Litter
Kitty litter does not melt ice and it should not be used to de-ice your driveway. Use it sparingly as it contains chemicals. Kitty litter absorbs moisture and can help with traction on ice, snow, and slush. It's reasonably priced, but when wet, it turns into a slick mush.
It is difficult to remove it from cement surfaces. When the snow melts, you'll be left with gummy dirt that might solidify, stick, and turn ice deadly. Hence, it is not a preferred choice for homeowners.
Walk On ice
It consists of seven naturally occurring minerals that give quick traction on ice or snow. It comes in handy disposable canisters that may be taken anywhere. You can use it as an instant traction agent for your car or on sidewalks and steps.
It has crystals having absorbent and gripping properties. To create a non-slip surface, the 'absorbers' drain the water making ice less slippery. While the 'grippers' grip the ice giving you and your family traction.
It may be sprayed on almost any surface around your home, including your driveway, sidewalk, deck, and even your roof, to help avoid slips and falls on slick surfaces. Walking on snow and ice was never easy but Walk on ice ensures you complete traction irrespective of the temperature and thickness of the ice.
Get ready for winter with the ONLY Pet Safe Ice Melt you can trust
Sand
Sand does not melt ice and needs to be spread repeatedly during and after a snowstorm. This can easily track inside your home, thus making inside and outside both messy. It can damage your floorings and carpets because of its abrasive nature. If you use sand then, be prepared for a thorough cleaning during springs, as it may get collected in drains, clogging them.
Sand And Salt Mix
The blend of sand and salt is used as an ice melt and traction agent. You are already aware of the cons of using sand around your home. Salt is far more hazardous than sand. It is highly corrosive and capable of causing havoc on your surroundings. It can damage your concrete, burn the paws of your pets, kill your plants, and can even make nearby water bodies toxic.
Another disadvantage of utilizing a salt and sand mixture is that it gets on your car and tires. Whether you like it or not, you'll wind up trailing this across your driveway and into your garage. It will cause rusting of your vehicle and will result in popouts and cracks of your concrete.
Conclusion
It is of utmost importance to ensure the safety of your family, pets, and guests throughout the snowy period. It is advisable to use a natural traction agent that is efficient and safe. Walk on ice is an ideal product for homeowners and people on the walk. It will give you instant traction without any fuss and mess.
Get ready for winter with the ONLY Pet Safe Ice Melt you can trust
Other Ice Melt Products
Safe Paw
The Original and the #1 Pet and Child Safe Ice Melt for over 20 years. Guaranteed environmentally safe – will not harm waterways and sensitive wetlands. Safe Paw can change how winter affects our planet.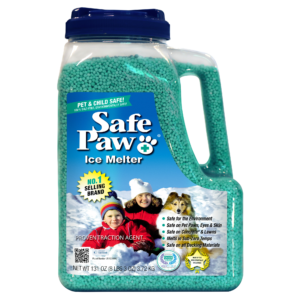 Safe Thaw
Imagine an ice melt you can put down and never worry about. It won't harm pets, kids and your property. That's Safe Thaw. Unlike anything else on the market, Safe Thaw can change how winter affects our planet.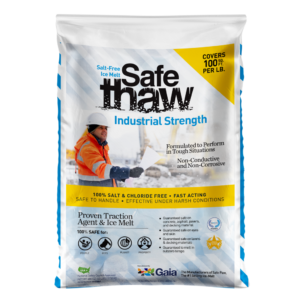 ---