Key Difference In Traction Agents
It's not too far when we will be greeting the snowy winters with a long to-do list to keep our family and house safe from the extreme weather. The white landscape in the snowy winter looks beautiful but on the other hand, walking on the ice without slipping is a major challenge. Every year several slips and fall accidents are leading to serious injuries while walking on the ice.
In this article, we will discuss how to walk on ice without slipping by using traction agents and their main differences. Traction agents are your handy safety aid to walk on ice. But, not any traction agent cuts.  
Below mentioned are few traction agents that can you can carry this winter to prevent any slip and fall accidents.
1. Walk On Ice
Ice becomes slippery due to the presence of a melted water layer on its surface. Walk on ice is composed of geo crystals gathered from mines throughout the U.S. The product is mainly composed of two types of granules. The absorber granules maximize the absorption of the free water on the surface, whereas the gripper granules bury themselves into the ice and create a "sandpaper effect" representing a non-slip surface. This is an extremely helpful product when you need traction immediately and can't wait for ice melt to melt the ice and make the way clear for safe waling.
How Does Walk On Ice Works?
Apart from being a highly effective safety aid to walk on ice, the product, Walk on Ice is 100% environmentally safe, chemical-free, and pet safe. It consists of all-natural minerals and chemicals that are completely safe. It is devoid of salts and substances that are damaging to the body and surfaces. 
Get ready for winter with the ONLY Pet Safe Ice Melt you can trust
2. Sand
Sand improves traction, making walking on icy surfaces a bit safer. It also doesn't contain any harmful chemicals and is safe for pets and the environment. However, it is not that effective. Neither does it melts the snow and nor does it absorb the excess water on the surface. It only provides the sandpaper effective for a short time.
Surprisingly, sand can also become a pollutant. As the ice melts, the sand is washed into storm drains. When it finds its way into the watershed, it creates a sludge that contaminates the water. Once the ice and snow are gone, an excess of remaining sand can become slick, making sloping surfaces hazardous.
3. Kitty Litter
Kitty litter is often recommended as a traction agent but applying that to your driveways and walkways is definitely NOT a good idea. Kitty litter does absorb the water on the surface of ice but, it becomes quite slick when wet. Kitty litter is basically clay granules of varying sizes. Once the ice melts, you are left with sticky lumps of clay that get stick to your shoes and creates a lot of mess everywhere. It requires a lot of time and effort to clean the sticky clay from your driveway. 
Get ready for winter with the ONLY Pet Safe Ice Melt you can trust
Other Ice Melt Products
Safe Paw
The Original and the #1 Pet and Child Safe Ice Melt for over 20 years. Guaranteed environmentally safe – will not harm waterways and sensitive wetlands. Safe Paw can change how winter affects our planet.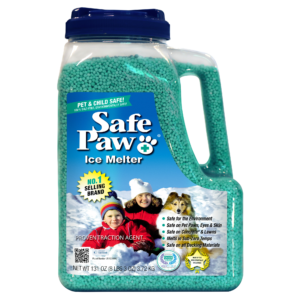 Safe Thaw
Imagine an ice melt you can put down and never worry about. It won't harm pets, kids and your property. That's Safe Thaw. Unlike anything else on the market, Safe Thaw can change how winter affects our planet.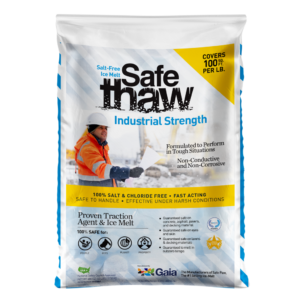 ---