How To Safely Cross A Slippery Narrow Alley In Winter?
Narrow alleys at the back of the building or restaurants are the most difficult patches to cross during the winters. The main reason is that most of these alleys are not treated with salt and have a treacherous slippery ice layer. Walking on slick ice can be really dangerous. The primary concern of pedestrians is how to walk on ice without slipping and getting injured. The best safety aid to walk on ice is to keep traction agents handy and use them whenever you encounter such ice patches.
Here Are Some Ways Through Which You Can Get Instant Traction For Walking On Ice:
Walk On Ice is your handy safety aid to walk on ice. We know how slippery slick back alleys can get, and it is not at all easy to wade through them, especially if they are not treated with ice melt. With its dual-patented compound and all-natural ingredients, you spread the Walk on Ice as you walk to build instant traction. It does not stick to the sole of your shoes nor create a mess when you step back inside. It is 100% safe on all surfaces, pavers, new concrete and is 100% anti-skid and eco-friendly. 
Get ready for winter with Walk On Ice instant traction on snow and ice
Specially designed boots for walking on ice make it easier for you to maneuver through any icy patch or even slick narrow alleys. There are different snow boots, such as ones with a firm grip track sole, thick-grooved rubber under sole, stretchable rubber spike under soles, or spiky shoes. These are readily available and can be used through the season.
As per the common trend, many building owners, restaurants, or homeowners prefer spreading kitty litter through their back alley to make it less slippery. However, it is not very effective, and there is always a chance to slip and fall. In addition, while it creates traction, it does not solve the problem of making a mess when you walk back inside your home or anywhere else. Kitty litter contains clay that forms a lumpy mass after dissolving in water. It also tends to choke the drain pipes and other water outlets.
Another commonly used product is sand. It is readily available, and hence you would see several people relying heavily on this product. You need to spread it and walk; it gives you traction to walk on thin ice. However, once the water mixes with sand, it becomes slush and cannot help you maintain your balance for an extended period. 
Get ready for winter with Walk On Ice instant traction on snow and ice
Final Words
How to walk on ice without slipping? The perfect answer to this is Walk On Ice. Walk on Ice creates instant traction on slick narrow alleys and helps walking on slick ice easier. It contains absorbers and gripper granules that absorb excess water from the ice surface making it less slippery and providing better traction for a walk.
Other Ice Melt Products
Safe Paw
The Original and the #1 Pet and Child Safe Ice Melt for over 20 years. Guaranteed environmentally safe – will not harm waterways and sensitive wetlands. Safe Paw can change how winter affects our planet.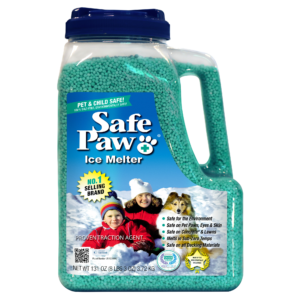 Safe Thaw
Imagine an ice melt you can put down and never worry about. It won't harm pets, kids and your property. That's Safe Thaw. Unlike anything else on the market, Safe Thaw can change how winter affects our planet.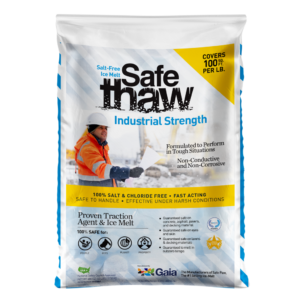 ---