How To Get Instant Traction In A Slick Back Alley
Have you tried walking through the back alley of a building or a restaurant in winter? If yes, you would know what we are talking about. The layer of snowfall and the patches of tar road gives us a tough time walking on thin ice. In addition, there is always a scare looming on our minds- what if we fall? 
Here is when you need to get great boots for walking on ice and an excellent quality traction agent to help you through the back alleys. 
How Can You Get Instant Traction?
Snow Boots 
Specially designed boots for walking on ice make it easier for you to maneuver through any icy patch or even slick back alleys. There are different snow boots, such as ones with a firm grip track sole, thick-grooved rubber under sole, stretchable rubber spike under soles, or spiky shoes. These are readily available and can be worn through the season. 
Kitty Litter 
As per the common trend, many building owners, restaurants, or homeowners prefer spreading kitty litter through their back alley to make it less slippery. However, there is always a chance to slip and fall if you do not apply it skillfully. In addition, while it creates traction, it does not solve the problem of making a mess when you walk back inside your home or anywhere else.
Sand
Another commonly used product is sand. It is readily available, and hence you would see several people relying heavily on this product. You need to spread it and walk; it gives you traction to walk on thin ice. However, once the water mixes with sand, it becomes slush and cannot help you maintain your balance for an extended period. It may seem helpful; however, it is not an ideal product in the long run.
Walk On Ice
A revolutionary traction formula, Walk On Ice is your handy companion anywhere you go. We know how slippery slick back alleys can get, and it is not at all easy to wade through them, especially if you have recently experienced sleet. With its dual-patented compound and all-natural ingredients, you spread the formula as you walk to build instant traction. It does not stick to the sole nor create a mess when you step back inside. It is 100% safe on all surfaces, pavers, new concrete and is 100% anti-skid and eco-friendly. 
Get ready for winter with Walk On Ice instant traction on snow and ice
Conclusion
Walk On Ice creates instant traction on slick back alleys and helps walking on thin ice easier. In addition, it does not wash off even after a day, thus making it highly cost-effective. Its superior absorbency power also helps to clear any animal mess or waste, paints, oil, and any other liquid you may have in your back alley. 
If you have power backups in the alley, you can rest assured that this traction agent will not harm or damage any delicate machinery or short circuit any expensive equipment. 
Get ready for winter with Walk On Ice instant traction on snow and ice
Other Ice Melt Products
Safe Paw
The Original and the #1 Pet and Child Safe Ice Melt for over 20 years. Guaranteed environmentally safe – will not harm waterways and sensitive wetlands. Safe Paw can change how winter affects our planet.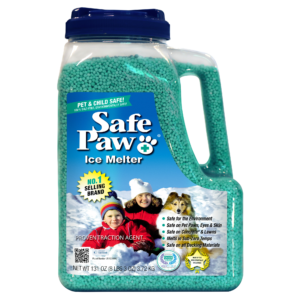 Safe Thaw
Imagine an ice melt you can put down and never worry about. It won't harm pets, kids and your property. That's Safe Thaw. Unlike anything else on the market, Safe Thaw can change how winter affects our planet.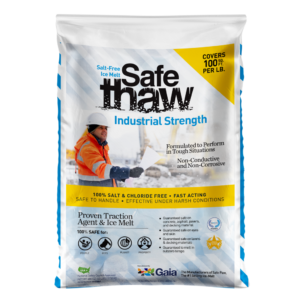 ---