Choosing The Right Armor: The Best Ice Melt For New Concrete
When the winter season rears its head, we find ourselves in a cold conundrum, specifically for those proud owners of new concrete driveways, patios, and walkways. To keep ourselves and our loved ones safe from the icy dangers, the best ice melt for new concrete is our safest bet. But as the stark whiteness descends, what ice melt can we trust?
Get ready for winter with Traction Magic instant grip on snow and ice
The Waiting Game: New Concrete Needs Time
Freshly poured concrete isn't just a new surface – it's a living, breathing entity that takes time to mature. For the first 12 months, new concrete is busy curing, a process where it develops strength, resilience, and resistance to wear and tear. As impatient as we might feel with winter's icy onslaught, using any form of ice melt on concrete younger than 12 months can lead to surface scaling and potential damage.
Beyond The First Year: Selecting The Best Ice Melt For New Concrete
Patience, they say, is a virtue, and it's one that pays off. After your concrete has completed its year of strengthening, it's time to introduce the ice melt – but the question remains, which one is the best? After the initial waiting period, Safe Thaw proves to be a reliable and safe option for concrete older than 12 months. It's a concrete and pet safe ice melt. Its carefully designed formula ensures that it gets the job done without causing any harm to your cherished concrete surfaces.
Get ready for winter with Traction Magic instant grip on snow and ice
Beyond Melt: Managing Traction With Traction Magic
Melting ice and snow is only half the battle in winter's war. Maintaining safe and reliable traction on your walkways and driveways is equally essential to prevent any unfortunate mishaps. This is where Traction Magic enters the stage.
Traction Magic is not an ice melter; it's a traction agent. It's your ticket to a safe, slip-free winter. It's a unique product that provides instant traction on all icy surfaces, turning risky zones into safe areas. From sidewalks to steps, or even giving your car that much-needed grip, Traction Magic's application is as varied as it is reliable.

A Touch Of Magic: Why Choose Traction Magic?
Traction Magic is a potent blend of benefits that make it stand out from the crowd. It's not just a tool; it's a guardian angel for your property during winter. Here are some of the reasons that make Traction Magic a household name during the frosty months:
Won't Harm Plants: Worried about your beloved greenery? Fear not, because Traction Magic is gentle on your plants. It won't cause any harm to your grass, plants, and foliage.
100% Pet Safe: Pets are family, and their safety is paramount. Traction Magic takes this into account and provides a product that's pet safe. There's no need to worry about harmful paw contact or ingestion.
Non-Corrosive: Get traction without the destruction. Traction Magic is a non-corrosive product, so you can breathe easy about potential property damage.
Natural: Traction Magic derives its power from Mother Earth. It's made from a blend of natural volcanic rock and seven other minerals, delivering an effective solution that doesn't compromise on nature's balance.
Get ready for winter with Traction Magic instant grip on snow and ice
Conquering Winter: The Balance Of Safety And Care
Searching for the best ice melt for new concrete is a journey of understanding the delicate balance between safety and surface care. A crucial part of this quest is understanding that no ice melt should be used on concrete younger than 12 months. Patience and care during this critical period can lead to years of trouble-free surface performance.
After this waiting period, the introduction of a safe ice melt such as Safe Thaw can effectively combat winter's icy grip, and a trusted ally like Traction Magic ensures optimal traction on your surfaces. When armed with these tools, we can look forward to a safe, worry-free winter season.
Winter need not be a time of apprehension for homeowners with new concrete surfaces. It's about making the right choices and using the right products. With the best ice melt for new concrete and a dependable traction aid like Traction Magic, we can take pleasure in winter's beauty without compromising on safety or surface integrity.
Other Ice Melt Products
Safe Paw
The Original and the #1 Pet and Child Safe Ice Melt for over 20 years. Guaranteed environmentally safe – will not harm waterways and sensitive wetlands. Safe Paw can change how winter affects our planet.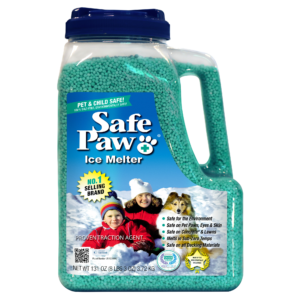 Safe Thaw
Imagine an ice melt you can put down and never worry about. It won't harm pets, kids and your property. That's Safe Thaw. Unlike anything else on the market, Ice and Snow Management You Can Trust.