Best Ways To Get Traction On Slippery Black Ice
How do you know there's black ice on the road ahead? And how is it formed? You might have many questions related to black ice. As the temperature drops below freezing, a thin layer of ice forms on the roads. It got its name black ice from the fact that it seems black on the road as it's a transparent layer. Black ice generates a transparent, glassy coating covering dark-colored roads, giving it a black appearance. Walking, deriving and even dog walk on ice becomes difficult in the presence of black ice.
The formation of the black ice happens when rain or waterfalls on the road or when sleet or snow melts and freezes onto the street. It results in a slippery covering of ice that is hazardous to drive or walk.
In this article, we will discuss the best ways to walk on ice without slipping.
Other Ice Melt Products
Safe Paw
The Original and the #1 Pet and Child Safe Ice Melt for over 20 years. Guaranteed environmentally safe – will not harm waterways and sensitive wetlands. Safe Paw can change how winter affects our planet.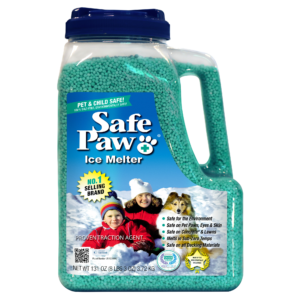 Safe Thaw
Imagine an ice melt you can put down and never worry about. It won't harm pets, kids and your property. That's Safe Thaw. Unlike anything else on the market, Ice and Snow Management You Can Trust.