Best Alternatives To Melt Ice On Concrete Driveway
When choosing the best alternatives to melt ice on concrete, we have different concerns and priorities. Therefore, it is always good to gain some expertise by conducting a comparative study and reviewing recommendations.
If you're overwhelmed with so many choices of ice melts available in the market, this article is for you. You no longer need to worry about buying the best alternatives to melt ice on concrete as we have researched for you.
Traction Magic
Traction Magic is a specific combination of minerals beneficial to the environment. These minerals are natural, not chemical. They do not harm plants or animals, and they are not harmful to concrete or gravel in any way. Additionally, they are non-corrosive to metals and do not cause damage when used on driveways or other surfaces.
Rock salt has been used for decades as an ice-melting agent, but it has several side effects that make it less than ideal as a driveway treatment option: It can damage concrete and metal surfaces. It may harm plants growing near where you spread rock salt. Moreover, it can lead to corrosion problems with pipes, drains, and lawn equipment if left sitting overnight.
Get ready for winter with Traction Magic instant grip on snow and ice
Road Runner Ice Melter
To effectively melt snow and ice down to -15°F below zero, Road Runner Ice Melter uses a combination of three chemicals in its pellets: calcium chloride, magnesium chloride, and sodium chloride.
Although it is environment-friendly and works well on most surfaces, it is not recommended for concrete, mainly freshly laid concrete or concrete that has not been adequately sealed.
Snow Joe
It contains calcium magnesium acetate(CMA), magnesium chloride, and sodium chloride. CMA is highly expensive on its alone. Therefore it's generally found in a mixed format.
In addition, the 94 percent calcium chloride pellets give it its professional strength.
Calcium chloride is considered less harmful to the vegetation; however, it still affects concrete and machinery by leaching out moisture and some necessary chemicals.
Green Gobbler
Calcium chloride, the principal ingredient in this ice melt, is utilized as an alternative to rock salt since it is less hazardous and performs more quickly at low temperatures, although being more expensive.
Calcium chloride generates exothermic heat that immediately melts snow and ice. However, it still damages your concrete and machinery because of corrosive chloride.
North American Salt
North American salt is made entirely of sodium chloride and melts at 15 degrees Fahrenheit. It is sold in 50-pound sacks.
Its primary component, sodium chloride, or rock salt, is highly corrosive to concrete. In addition, freeze-induced expansion can harm concrete due to the pressure created by many freeze/thaw cycles during the ice melt process. After drying, it also leaves a white powdery residue.
Conclusion
Most salt-based Ice melts could be faster in action but they have an adverse effect on the concrete, machinery, environment, pets, and kids. So you cannot use it around your property to avoid harm.
Get ready for winter with Traction Magic instant grip on snow and ice
Traction Magic is an all-natural anti-slip traction agent. You can apply it to any area, even near your machinery, iron fencing, and vehicles, without worrying about corrosion.
Other Ice Melt Products
Safe Paw
The Original and the #1 Pet and Child Safe Ice Melt for over 20 years. Guaranteed environmentally safe – will not harm waterways and sensitive wetlands. Safe Paw can change how winter affects our planet.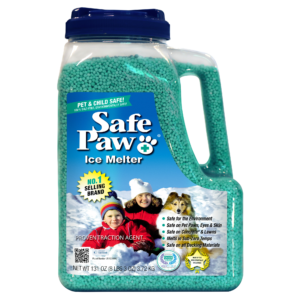 Safe Thaw
Imagine an ice melt you can put down and never worry about. It won't harm pets, kids and your property. That's Safe Thaw. Unlike anything else on the market, Ice and Snow Management You Can Trust.