5 Ways To Use Walk On Ice
In slippery conditions, slips and falls are a typical occurrence. However, there are steps to lessen your chances of getting wounded. Before walking on the snow, you start thinking about which boots you can walk in with.
Your winter boots are not the best remedy for slip and fall incidents. If you must venture out in icy weather, you need an instant traction agent. Walk on Ice keeps you safe and also provides traction to your family, pets, and vehicle.
Which Boots Can You Walk On Ice With
When it comes to the winter, you must ensure that you are wearing appropriate footwear. If you don't, you risk getting cold feet and falling. A temperature rating on snow boots indicates how cold the weather can reach before your feet become cold.
Do not rush into a purchase since not only are these shoes pricey, but the poor fit will render them entirely unusable.
How Thick Should Ice Be To Walk On
Walking on ice is not recommended until it is at least 4 inches thick.
The more you can learn about the ice's strength before venturing out on it, the better. Before you go out on the ice, make sure you're prepared for any situations and have a safety plan in place.
Different Ways To Use Walk On Ice
At Home
Walk on Ice is composed of geo-crystals that have absorbent and gripping properties. To create a non-slip surface, the 'absorbers' soak the water while the 'grippers' grip the snow. Walk on ice is safe for your pets and children, unlike salt-based products. It is non-corrosive and will not damage your concrete and asphalt. The all-natural components of this product do not burn your vegetation and keep your greenery healthy.
At Business
Walk on ice will not damage the concrete or roads, reducing on-site accidents, injuries, and lawsuits. It will keep your business safe and accessible during winter. You can use it at your entrance and parking lot. It is easy to clean, long-lasting, and does not leave behind a messy residue. Unlike chlorides, it will not damage your interior surfaces or carpets.
Get ready for winter with the ONLY Pet Safe Ice Melt you can trust
Traction For Car
You can use Walk on Ice to give instant grip to your vehicles and can also rub the environment-friendly crystals on the tires before starting your journey on snowy terrain. While driving on snow-covered roads, we all are worried sick about getting stranded. By using this traction agent, you can avoid spinning and losing control of your car.
While Getting Out Of Your Vehicle
Getting out of your vehicle on the slippery ice can prove to be a risk during winters. You can use Walk on Ice for sure footing. It can be kept in your gloves compartment or even your handbag. Spread it before you get down on the slippery surface and avoid slipping.
For My Pets
Walk on Ice can be used any place your pets need to roam and the immediate traction it creates will keep your furry friends safe from falling. This product does not damage their paws while helping them to enjoy their snow run.
Get ready for winter with the ONLY Pet Safe Ice Melt you can trust
Conclusion
Walk on ice contains seven naturally occurring volcanic minerals for traction. Its ingredients stick to the snow and provide grip and provide instant traction. It does not combine with snow to leave behind a slush. Walk on ice works effectively on all surfaces and operates at any temperature.
Other Ice Melt Products
Safe Paw
The Original and the #1 Pet and Child Safe Ice Melt for over 20 years. Guaranteed environmentally safe – will not harm waterways and sensitive wetlands. Safe Paw can change how winter affects our planet.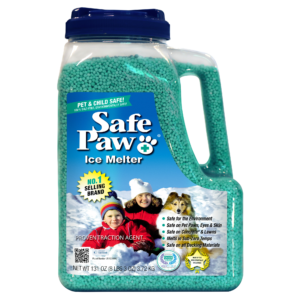 Safe Thaw
Imagine an ice melt you can put down and never worry about. It won't harm pets, kids and your property. That's Safe Thaw. Unlike anything else on the market, Safe Thaw can change how winter affects our planet.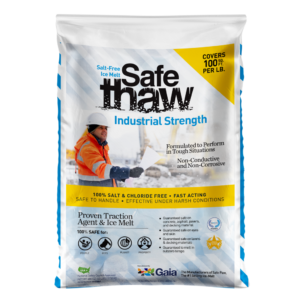 ---