5 Tips For Driving And Walking On Clear Ice
Moving out of your home without worrying about accidents and slip and falls is difficult. The roads are slick, and the driveway gets covered with snowmelt. Walking on clear ice is as scary as driving on it. Not only do you need good equipment but also ice melt, traction agents, and spikes for shoes to walk on ice and slick roads.
Although clear ice is a perennial winter problem, we will discuss some easy tips and tricks to help you with driving and walking on clear ice.
Let's get started.
Going slow is not going to harm you or be considered lame. On the contrary, driving slow on clear ice is the only way to avoid skidding off the road. We take care when we drive on ice, similarly while walking on clear ice; you must take small steps carefully. It will help you avoid any slip and fall injuries.
Keep Traction Agent Handy
Do you keep an emergency kit while driving? Similarly, you must keep a small emergency kit when you head out in winter. It is always an added advantage during winter. Whether you travel short distances or long ones, changing weather can always catch you by surprise. Some essential items your emergency kit must include- warm gloves, a water bottle, and traction products such as Walk On Ice.
Get ready for winter with Walk On Ice instant traction on snow and ice
Get the best shoes for walking on ice that is sturdy with spikes or broad grooves. Having spikes for shoes to walk on ice can help you form a better grip on black ice and walk better. They are available in any store near you and even online!
There is nothing more harmful to your well-being and that of the ones around you than speeding in peak winter. Snow-clad roads, constantly melting ice, slush, brine, and everything around indicate that we must not take any chances while driving. Clear ice can get dangerous as it is thin and invisible, and you do not know when you will land on it. Don't apply the brake suddenly or try to overtake a vehicle while speeding because it can land you in trouble as well.
Do not panic when you hit clear ice. You must remain calm and avoid overreacting. In our panic, we more often than not end up hitting the accelerator to get out of that situation quickly. However, the opposite is true in the case of clear ice.
Get ready for winter with Walk On Ice instant traction on snow and ice
Conclusion
You will encounter clear ice once at least in the season, and having these safety tips handy will go a long way. It is good to have the right set of tools, equipment, traction products such as Walk On Ice, and of course, a great sense of humor to help you overcome the winter blues.
Other Ice Melt Products
Safe Paw
The Original and the #1 Pet and Child Safe Ice Melt for over 20 years. Guaranteed environmentally safe – will not harm waterways and sensitive wetlands. Safe Paw can change how winter affects our planet.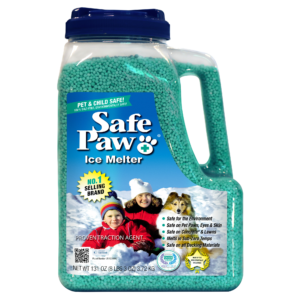 Safe Thaw
Imagine an ice melt you can put down and never worry about. It won't harm pets, kids and your property. That's Safe Thaw. Unlike anything else on the market, Safe Thaw can change how winter affects our planet.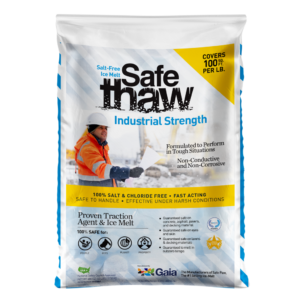 ---