5 Steps To Preventing Slip And Fall Accidents In Your Area
Slip and fall accidents are common in winters. As a responsible citizen, you don't want such accidents near your house and area. If you're wondering how to walk on ice without falling, this article is for you.
Here are some walking on ice safety tips for keeping your premises free from snow this winter.
1. Understand The Requirements
Every household has different requirements. If you have pets and kids you need a salt-free, chemical-free ice melt. If you need instant traction in your backyard or to get to your car immediately, then you need a good traction agent. Therefore, gauge your requirements first. A well-planned strategy and the implementation of a snow and ice removal plan are the first lines of defense against slip, trip, and fall events. Make a written snow and ice removal plan and follow it. 
2. Identify The Areas That Need Traction
Consider areas where slip and fall are most common like driveway, slope, staircase, sidewalk, and backyard. If you're responsible for snow removal, make sure you have the necessary equipment like a spreader, shovel, insulated boots, gloves, and coats, etc. Keep an eye on the weather, the walking surfaces, and the success of the removal methods.
Get ready for winter with Walk On Ice instant traction on snow and ice
3. Use Traction Agent
Walk on Ice is 100% natural and is safe for people, pets, and the environment. You can even allow the product to get swept into the garden without any fear of damage.
Walk on Ice gives you instant traction and allows you to prevent the dangers of walking on ice. It gives you a safe, non-slippery surface due to the presence of two different types of granules.
Absorbers: Absorbers immediately absorb the excess water layer on the surface of the ice. These loose water layers are the main reason behind the slipperiness of the ice.
Grippers: Grippers have a spiky structure that firmly grips the ice. It increases the traction for walking on the ice surface.
4. Use Safe Ice Melt 
Clear walkways and parking lots as much as possible. Keep an eye on snow conditions and remove the accumulation of ice by using a salt-free ice melt. Before you start using your de-icer, do some research on the ice melt ingredients you are using to ensure that you get concrete safe, non-corrosive, non-conductive, and long-lasting ice melt.
Get ready for winter with Walk On Ice instant traction on snow and ice
5. Do Not Ignore Indoor Walking Surfaces 
Family members and visitors will track snow and ice within as it piles outside, where it will melt and create an extra slip hazard. Once the floor has dried, remember to remove the wet floor sign—leaving it up creates another trip hazard for walkers.
Conclusion
Slips and falls are the most common cause of accidents in winters. Allowing the winter weather to get the best of you is a bad idea. By using a salt-free ice melt and traction agent, you can keep your house free from snow and ice accumulation and your family and guests safe.
Other Ice Melt Products
Safe Paw
The Original and the #1 Pet and Child Safe Ice Melt for over 20 years. Guaranteed environmentally safe – will not harm waterways and sensitive wetlands. Safe Paw can change how winter affects our planet.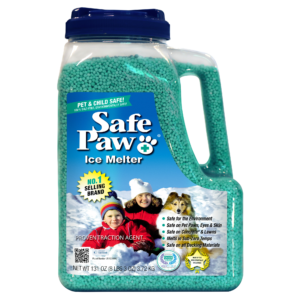 Safe Thaw
Imagine an ice melt you can put down and never worry about. It won't harm pets, kids and your property. That's Safe Thaw. Unlike anything else on the market, Safe Thaw can change how winter affects our planet.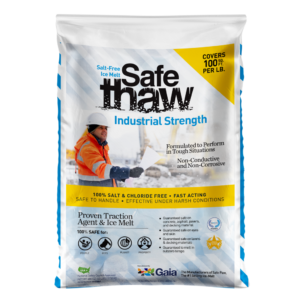 ---