5 Helpful Safety Tips For Walking Dogs On Snowy Sidewalks In Winter
Dogs can be severely harmed by the cold. During the winter, dogs are at risk of frostbite, hypothermia, and chemical poisoning. People use ice melters that contain dangerous chemicals when ice initially emerges.
Ice isn't exactly a dog's best friend. It can adhere to your dog's paws, making them exceedingly uncomfortable and perhaps detrimental to their health. In addition, ice shards can splinter and slash your dog's feet. Of course, most dogs still require regular walks. But there are precautions you can take for the safety and health of your four-legged friend while walking on ice.
Keep The Hair On Your Dog's Toes Trimmed
Walking dogs in the cold necessitates a little extra work on our part to keep them warm. You probably already clip your dog's nails regularly, but it's also a good idea to keep their toe hair trimmed. Rock salt, hazardous chemicals, and other impurities can become lodged in this hair, causing your dog much pain and eating away at his paws. Dog boots for walking on ice may protect their paws, but most dogs are uncomfortable with them.
It's crucial to plan ahead of time when walking dogs in the winter and chilly weather. If the weather turns colder than usual, be prepared and think about how you'll protect the dog from extreme cold, snow, ice, and rain.
Get ready for winter with Walk On Ice instant traction on snow and ice
Using A Pet-Safe Ice Melt
The glycols and crystalline amide core have a non-corrosive and non-toxic composition. It is safe and more effective than a rock salt melt. In addition, it will not damage the paws and skin of your pet. Moreover, it has no adverse effect even if eaten accidentally by your pet.
Keep an eye on your pet to ensure he doesn't get too cold. You should be able to notice and pick up on signs that he's too chilly in most cases. Dogs can tell when they've had enough of the cold, and they'll let you know.
Do Not Allow Your Dog To Eat Anything
Although you should never let your dog consume anything from the ground, dangerous substances such as antifreeze, chemical ice melting products, and road salt are regularly encountered on pavements and roads when walking dogs in the winter. All of these things can be pretty harmful to your dog. Hence, it is advisable to use a chloride-free and natural ice melt.
Moisturizing your dog's paws will keep them from drying out and becoming damaged. Cracking, splitting, and soreness in the dog's paws are all symptoms of dry feet. Therefore, you should moisturize your dog's paws before taking them for a walk.
Many people chuckle at the concept of pets wearing winter clothing, yet it can help protect dogs from the cold when walking in the winter. There are boots for walking on ice for dogs, But your dog may need a lot of training before they can walk in them.
Conclusion
Many pet owners believe that because dogs have fur, they should survive cold weather and wick moisture away, but this is not true; many dogs cannot withstand frigid temperatures and harsh chemicals of ice melt. Choose a salt-free pet-friendly ice melt to keep your furry friend safe and happy.
Get ready for winter with Walk On Ice instant traction on snow and ice
Other Ice Melt Products
Safe Paw
The Original and the #1 Pet and Child Safe Ice Melt for over 20 years. Guaranteed environmentally safe – will not harm waterways and sensitive wetlands. Safe Paw can change how winter affects our planet.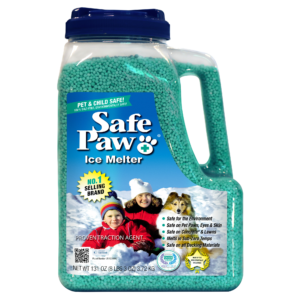 Safe Thaw
Imagine an ice melt you can put down and never worry about. It won't harm pets, kids and your property. That's Safe Thaw. Unlike anything else on the market, Safe Thaw can change how winter affects our planet.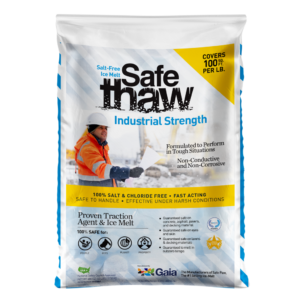 ---