5 Better Alternatives To Salt For Deicing
Cities across the country pour vast tonnes of rock salt across their streets each winter to prevent ice and dangerous conditions. It has the potential to destroy bridges, roads, buildings, and other infrastructure components. It is also disastrous to the local wildlife and domestic animals.
Let us find more about the best alternatives to salt-based ice melt. These include traction agents, natural ice melts, blowers, ice mats, and spikes for shoes to walk on ice. But before that, we should know when to walk safely on ice.
When Is Ice Safe To Walk On?
We can determine whether the ice is safe to walk or not by looking at its appearance and thickness. Ice appearance includes its color, texture, and features. There are recommended ice thicknesses for various uses. It also depends on the temperature of a particular day and variation in the local climate.
Why Avoid Rock Salt?
Rock salt is extremely harmful to aquatic life and ecosystems. Salt is also directly responsible for the long-term damage or degrading of certain materials. The rusting of vehicles and transportation infrastructure is also a result of karst and road salt. Rock salt can erode or damage masonry, as well as many types of stone, including concrete.
5 Better Alternatives To Salt For Deicing
Traction Agent:
A non-melt traction agent product like Walk on ice has the advantage of providing quick traction. The tiny spiky granules bite through the ice's surface while absorbers soak up the surface water that causes ice to be slick. When you spread it, you instantly have a safe walking surface. It also outperforms rock salt and traditional ice melt because it is non-toxic to humans, pets, and the environment. Walk on ice is made of micronutrients. They allow the product to be swept into the lawn or garden for greener grass and a lush garden in the spring.
Get ready for winter with the ONLY Pet Safe Ice Melt you can trust
Snow Melting Mats:
Snow melting mats, like outdoor rugs, are designed to be placed in high-traffic areas to help remove snow, sleet, and ice. Embedded wiring and heating coils, for example, are utilized to warm up the mat and melt away the surrounding snow. They are small and consume electricity, and require an active power source. During the winter, this entails a larger energy cost.
Electric Or Gas-Powered Snow Blowers:
These are only suitable for smaller properties and shared areas, but they can assist remove snow from walkways and drives. One significant disadvantage is that they do not operate well with ice or extensive stretches of icy ground, so keep that in mind.
Kitty Litter:
Cat litter is typically more expensive than rock salt in most places, making it unsuitable for large-scale applications. The most serious problem with cat litter is that it can cause a mess once the snow melts, especially after the winter months are over.
Spikes For Shoes To Walk On Ice:
The spikes or ice cleats for shoes give you traction and avoid slip and fall incidents while you are out in the snow. But the same factor that makes ice cleats a safety tool outside makes them dangerous indoors if you do not remove them. When worn indoors on hard surfaces such as tile, ceramic, linoleum, sealed concrete, or epoxy, these cleats become a serious slip danger.
Get ready for winter with the ONLY Pet Safe Ice Melt you can trust
Conclusion
The Walk on ice gives you immediate traction without harming your property and environment. It is easy to carry and works well in all conditions. It will avoid any slip and fall incidents while taking care of the environment and your premises.
Other Ice Melt Products
Safe Paw
The Original and the #1 Pet and Child Safe Ice Melt for over 20 years. Guaranteed environmentally safe – will not harm waterways and sensitive wetlands. Safe Paw can change how winter affects our planet.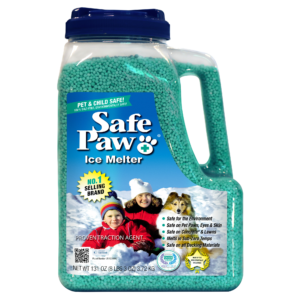 Safe Thaw
Imagine an ice melt you can put down and never worry about. It won't harm pets, kids and your property. That's Safe Thaw. Unlike anything else on the market, Safe Thaw can change how winter affects our planet.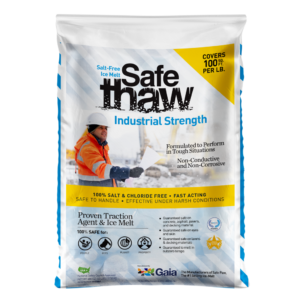 ---