4 Scenarios When to Use Traction Magic
Snowfall season has unmatchable beauty. But at the same time, snow and ice accumulation on sidewalks, driveways, and parking lots can create hazard zones. Slip and fall accidents are one of the biggest winter woes. We all want to avoid them at any cost.
One of the common solutions used by many is ice melt. It removes the slippery layer of ice but takes time. Many times you need a quick solution. In situations when your car is stuck or when you need to walk on walkways, driveways, or decks, traction agents should be used.
4 Scenarios to Use Traction Magic-
1- Residential Traction Magic Use
Many times building authorities don't do the job of salting pavements and sidewalks properly. Walking on the walkways, pathways, and decks becomes a risky affair. Residential Traction Magic comes in small buckets of 15 lb size. This product creates an instant skid-free and slip-free surface on ice, allowing you to use the pavement without any fear of slip and fall.
You can easily make your backyard a winter playland for your kids by sprinkling Traction magic. It works instantly and isn't required in large quantities. If you have pets and plants to take care of, this product is a safe bet as it has all-natural ingredients in its blend.
2- Commercial Traction Magic Use
As a business, you want to avoid any accidents near your establishment and keep your employees safe. One of the major components of worker's compensation claims is slip and fall accidents. Therefore, businesses should use Commercial Traction Magic. It comes in a big 45lb bag and can cover up to 9000 sq. ft.
Traction Magic's excellent spread rate allows the product to be evenly spread on larger areas. The little dispenser bottle that comes with Traction Magic makes it simple to spread thinly. The concentrated formula does not require much of the product to do the job.
Get ready for winter with the ONLY Pet Safe Ice Melt you can trust
3- As An Emergency Supply
Getting stuck on a stretch of ice is a common occurrence during cold winter months.
Digging out a few feet in front of and from behind the tires is the most suggested solution. But it isn't easy. Using sandbags, salt, dirt, or even kitty litter can be a messy solution.
In such cases, a Traction Magic Bucket can be a handy solution. You can easily carry it in your car as a part of an emergency supply. A light coating of the product adds traction under your tires and allows your vehicle to move instantly.
4- Around Livestock
Have a farm and animals to take care of? The outdoor feeding area of animals can sometimes become messy. In such cases, Traction Magic can keep you and your animals safe from falling by creating traction immediately. Since it has all-natural ingredients in its blend, it's safe to use around pets and plants.
Traction Magic is a solution for both commercial and as well as residential use. Its natural elements make it an environmentally friendly product safe for you, kids and pets.
Get ready for winter with the ONLY Pet Safe Ice Melt you can trust
Other Ice Melt Products
Safe Paw
The Original and the #1 Pet and Child Safe Ice Melt for over 20 years. Guaranteed environmentally safe – will not harm waterways and sensitive wetlands. Safe Paw can change how winter affects our planet.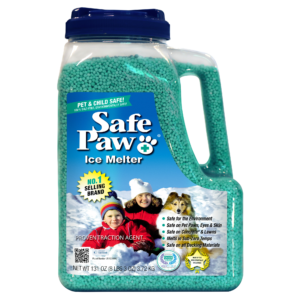 Safe Thaw
Imagine an ice melt you can put down and never worry about. It won't harm pets, kids and your property. That's Safe Thaw. Unlike anything else on the market, Safe Thaw can change how winter affects our planet.