4 Best Tips To Avoid Trips, Slips And Falls In Winter
As you can see in the illustration above, the minimum thickness safe for walking on a frozen lake should be at least 4 inches.
Now let's get back on the ground. Should we?
Here are 5 tips to help you avoid trips, slips, and falls in winter.
1. Plan And Implement
Good housekeeping is important. If your housekeeping practices are poor, then it can lead to injuries, lawsuits, or claims. You should maintain an overall safety program where proper housekeeping is planned and implemented. It is an ongoing procedure throughout the winter season, and you can assign the responsibilities amongst family members or employees or outsource it to external contractors.
The planned activities include
-shoveling off the snow after a snowstorm,
-spreading salt
These things ensure that the melted snow does not convert into the treacherous layer of slippery ice in the evening.
2. Reduce Slippery Surfaces
Most of the slip accidents are reported in parking lots, sidewalks, driveways, stairs, and other floors in general.
Ice becomes slippery due to the presence of a melted layer of water on its surface. Traction agents work best when you need immediate traction on the icy surface. They absorb the excess water and improve the friction. Walk on Ice is an efficient traction agent composed of geo crystals and contains two types of granules.
The absorber granules maximize the absorption of the free water on the surface of the ice, and the gripper granules with their spiky structure bury themselves into the ice to create better traction for walking.
Some other organic traction agents are kitty litter, sawdust, sand, etc. These traction agents are not that effective and create a lot of mess to clean afterward.
Get ready for winter with the ONLY Pet Safe Ice Melt you can trust
4. Create And Maintain Proper Lighting
Use proper lighting in walkways, staircases, driveways, and construction areas. It helps people to clearly see the slippery area so that they can walk slowly and safely. 
5. Wear Proper Shoes
Your shoes play a major role in preventing falls on slippery ice. People use spikes for shoes to walk on ice, so they don't have to walk like a penguin on the street. These ice grippers for shoes work well on soft snow, but the hard metal coil spring doesn't dig into the hard ice surface. It just slides on its surface.
Conclusion
Whether you're wondering how thick should ice be to walk on or how to walk on ice without slipping, these are some of the great tips to make you walk safely on the slippery ice. You can adopt some or all to avoid any unfortunate incident.
Get ready for winter with the ONLY Pet Safe Ice Melt you can trust
Other Ice Melt Products
Safe Paw
The Original and the #1 Pet and Child Safe Ice Melt for over 20 years. Guaranteed environmentally safe – will not harm waterways and sensitive wetlands. Safe Paw can change how winter affects our planet.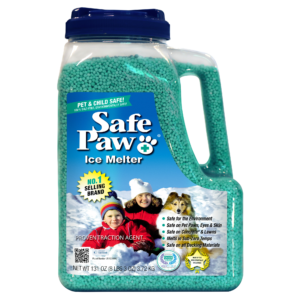 Safe Thaw
Imagine an ice melt you can put down and never worry about. It won't harm pets, kids and your property. That's Safe Thaw. Unlike anything else on the market, Safe Thaw can change how winter affects our planet.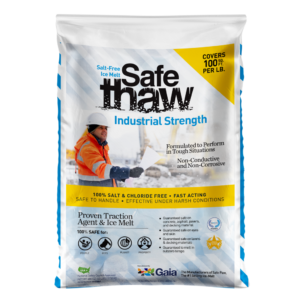 ---