3 Reasons Why Sand And Kitty Litter Is NOT The Perfect Solution
Winters can be pretty trying, especially if you have to step out in a hurry to any work done or encourage your dog to walk on ice. Besides ice melt products, we have had constant comparisons with kitty litter, sand, and Walk on Ice, and we are here to let you know why these are unwanted rumors.
Traction:
Sand – It provides temporary surface traction and merges with the water after the ice melts. Thus, becoming ineffective and disallowing humans and animals to safely walk on ice.
Kitty Litter – It has specific traction-specific properties that provide temporary relief. It comprises clay, corn or wheat, and pine chips, or synthesized crystallized silica. After merging with ice, it does not stick to the surface but forms lumps, making it difficult to walk on.
Walk On ice is an eco-friendly and environmentally safe product that comprises seven nationally mined geo-crystals and minerals that are dried and milled. They have a honey-combed structure and act like a sponge when they come in contact with ice. These spiky granular crystals pierce through the ice, absorb water, and form a grip.
Get ready for winter with the ONLY Pet Safe Ice Melt you can trust
Environment-Friendly:
Sand- Excess amount of sand is dangerous to the vegetation and concrete. Also, after the ice melts, you will notice dry sand everywhere. It not only covers the entire area but clogs drains and sewers as well. Thus, making it the least friendly solution.
Kitty Litter– It majorly comprises clay, and when clay comes in contact with water, it clumps and expands when soaked in water. It quickly leads to the clogging of drains around your house or any public place. Thus, it turns out to be an expensive affair, thus disallowing anyone to safely walk on ice.
Walk On Ice– A 100% environment-friendly traction agent and does not clog drains. Its tiny pores act like a sponge, absorb the water, and nourish your vegetation with essential minerals—a win-win for you, your plants, and the environment.
Safety And Cleanliness
Sand– The tiny particles get stuck underneath the sole of your shoes, making their way inside your house. It creates an unwanted mess and can be accidentally ingested by pets or children, making it unsafe.
Kitty Litter- You have to keep it away from children as they might ingest it accidentally. It sticks to the sole of your shoes and causes an unnecessary mess when you take it inside. Also, it takes up time to clean it and leaves unwanted residue.
Walk On Ice– It does not stick to the sole of your shoes. Its unique volcanic mineral property helps it stick only to the surface and not the shoes. With no chlorides, salts, or chemicals, it is 100% safe for pets and does not burn their paws, and even kids can touch it without harming them.
Get ready for winter with the ONLY Pet Safe Ice Melt you can trust
Conclusion
We know all the people who have used Walk on Ice vouch for its authenticity and effectiveness. It does not melt away with ice but sticks to the icy surface, breaks it down, and remains there till you remove it.
Walk on ice cannot be compared with kitty litter or sand.
Other Ice Melt Products
Safe Paw
The Original and the #1 Pet and Child Safe Ice Melt for over 20 years. Guaranteed environmentally safe – will not harm waterways and sensitive wetlands. Safe Paw can change how winter affects our planet.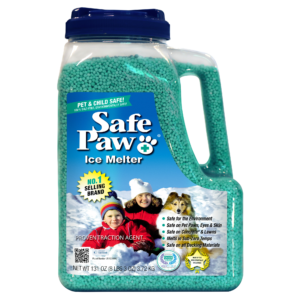 Safe Thaw
Imagine an ice melt you can put down and never worry about. It won't harm pets, kids and your property. That's Safe Thaw. Unlike anything else on the market, Safe Thaw can change how winter affects our planet.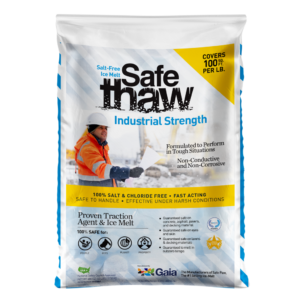 ---